No, I am not kidding.
With 30,462,105 live websites, WordPress captured 41.28% market share of open-source content management systems.
…….though this scenario in just 2003.
Thousands of themes and plugins are the secret of its huge success as it makes website maintenance tasks easier.
In the initial years, bloggers used this platform for their websites. But with time, news organizations, e-commerce businesses, and many others become big fans of this CMS platform.
Is WordPress still relevant 2023?
Let's see some WordPress statistics to give you a better understanding of the influence of this open-source CMS system throughout the years.
Understanding the CMS Market Share & where WordPress Belongs
Over 73 million websites online use a CMS.
Among all the platforms, WordPress is by far the most popular one.
The brainchild of American blogger Matt Mullenweg and British blogger Mike Little, this open-source page builder takes the place of the most flexible CMS for bloggers, developers, and marketers. Here is the overall picture of WordPress cms usage statistics & CMS Market Share–
WordPress: 41.28%
Wix: 7.03%
Squarespace: 4.24%
Joomla!: 2.44%
GoDaddy Website Builder: 2.50%
Weebly: 1.57%
Duda: 1.10%
Blogger: 1.05%
Drupal: 1.03%
Jimdo: 0.76%
Yes, this is why we called Word Press the King of the CMS world.
Latest WordPress Statistics 2023: Key Metrics, Trends & Usage
WordPress (WP) Usage Statistics
2 out of 5 websites are using WP
As per the study of W3Techs, almost 43.2% of websites use WordPress as of 2022. In 2021, this percentage was 39.5%. It seems that 2 out of 5 websites are using WP.
Recently the growth of WordPress has been 12% yearly
W3Techs has been continuously tracking the growth of WP since 2011. In January 2011, only 13.1% of websites were using WP. Since then, the growth has been 12% yearly, reaching 43.2% in 2022.
36% of the top 1 million websites are built using WordPress
Top sites named The New York Times, Nike, Bloomberg, etc., are designed with WordPress. Moreover, 36% of the top 1 million websites are built using WordPress. Bear in mind "top" sites are ranked according to the number of their organic visitors.
Almost 2 million websites start using WP every 2 minutes.
Various WordPress websites use many subcategories of WP. WooCommerce is the majority, with 20.4%. Elementor and WPBakery are the other popular subcategories, with 15.9% and 15.3% of WP websites using the corresponding page builders.
English is the most Popular Language
Most WordPress users are English, with 71%. While the percentage of Spanish, Indonesian, Portuguese, and French is 4.7%, 2.4%, 2.3%, and 1.5%, respectively.
WordPress (WP) Plugin & Theme Statistics
Have you ever visited the official WP plugin directory? You will find roughly 59,825 free plugins there. Elementor, Jetpack, and Akismet are some of the used ones.
The highest number of active installations of plugins in the WP plugin directory is Yoast SEO. This plugin was installed 5 million times and received 26 thousand 5-star ratings. It is one of the well-rated and most downloaded plugins of WordPress.
The number of free themes in WP Theme are eye-staggering, with 9,945 free themes. Neve, OceanWP, Astra, etc., are the most popular ones.
| | |
| --- | --- |
| Theme Name | Number of Installations |
| Twenty Twenty-Two | 1m+ |
| Twenty Twenty-One | 1m+ |
| Hello Elementor | 1m+ |
| Astra | 1m+ |
| Twenty Seventeen | 800k+ |
| OceanWP | 700k+ |
| Twenty Twenty | 700k+ |
| GeneratePress | 400k+ |
| Neve | 300k+ |
| Twenty Nineteen | 300k+ |
Scepter researched and found that WP Theme Respiratory has approximately 31,000 themes. This number includes the free and premium themes both.
Premium themes are pretty cheap in WP compared to other CMS systems. The average price for a premium WP theme is $77.57. These themes have better functionality, outstanding flexibility, and security features than WP's competitors, making them worth the price.
The minimum price for a premium theme is $13. On the other hand, the maximum price is $10,000.
More than 1 million sites used Astra and Divi themes.
WordPress (WP) Security Statistics
WP has a strong security system. They have a popular firewall service named Wordfence. This service blocked 86 billion password attacks from January to June of 2021. WordPress always recommends users to use a password containing numbers, letters and characters.
Threat actors attempt to exploit vulnerabilities frequently. In the opening half of 2021, Wordfence firewall blocked more than 4 billion requests from blocked IPs.
The number of plugin vulnerabilities in the first 6 months of 2021 is 552. During the same period, the number of theme vulnerabilities is 47. As basic functionalities mean reduced attack surface.
FURTHER READING:
WordPress (WP) Release Update Statistics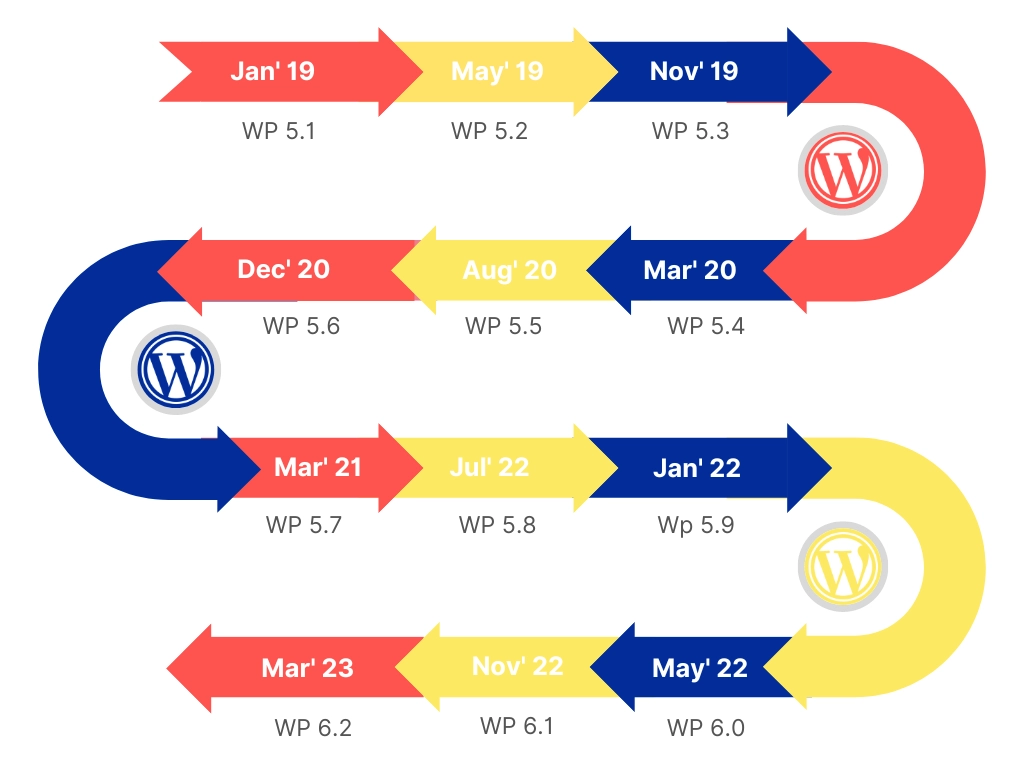 Generally, WP releases update 2-3 times a year. Here is the history of WordPress release updates from 2019 to 2023.
WordPress 6.3 – August 8, 2023
WordPress 6.2 – March 29, 2023
WordPress 6.1 – November 1, 2022
WordPress 6.0 – May 24, 2022
WordPress 5.9 – January 25, 2022
WordPress 5.8 – Jaly 20, 2021
WordPress 5.7 – March 9, 2021
WordPress 5.6 – December 8, 2020
WordPress 5.5 – August 11, 2020
WordPress 5.4 – March 31, 2020
WordPress 5.3 – November 12, 2019
WordPress 5.2 – May 7, 2019
WordPress 5.1 – February 21, 2019
Interesting Statistics about WordPress (WP)
The total number of the default WordPress theme is 14. All these themes are named after the years of its release.
The earliest WordPress theme is "Classic." It was the default theme of WP from 2003-2005. In fact, it is not a true theme that we know about WordPress themes.
The official WP theme name was "Kubrick." It was designed by Michael Hellemann and released in 2005.